If you want to sponsor my blog, you can send me your blog button (200x65). It's all free. In exchange, I ask you to put my blog button on your blog. Really easy. Anyway, I'll only post blogs that share the same interests as mine. My e-mail address is

lifeiscolourl (at) gmail (dot) com

. I'm looking forward to talking to you!
(200x65)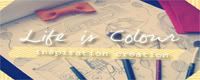 (200x100)